posted 04-25-14 12:34 PM EDT (US)
---
Finaly, after some time develop this, I finally have the minimal requirements to present you my project:
Age of Empires III: The XX Century is a fan-based total conversion modpack, in-development, for Age of Empires III (with both expansions). The mod, as the name sugests will focus on the events of the 20th Century, highlighting the periods of World War One, Interbellum Period, World War Two and the early-Cold War. The mod will feature revamped and modernized gameplay, such as the introduction of airplanes, tanks and modern battleships, the 11 modernized Vanilla (8) and TaD (3) civs (Spanish, British, French, Portuguese, Dutch, Germans, Russians and Turks, plus Chinese, Indians and Japanese) as well as brand new civs like, the Americans, Italians, Austro-Hungarians and probably more yet to come; new cultures with unique gameplay, tons of new units and buildings, art and music and much, much more. Grow your nation, defend your allies and conquer your enemies in humanity's most violent century: The XX Century.
Features
Modified Gameplay


The gameplay has been modified to ensure the balance and fair use of the modern weaponry used throughout the twentieth century, however the main AoE-style gameplay will still prevail.



-> For the first time, you will see land, water and air battles, each one of them interacting with the other.





-> Allow your civ to make both military pacts and economical agreements with the others, choose your Political Ideology and act it.





-> Some new maps, that add effects like day-night cycles, storms that will affect your gameplay in that map.





-> Upgrade the weapons and equipment of your soldiers in a new arsenal gameplay.





-> Modified AI, that will make your AI enemy/ally a better player.





-> and much, much more new features... like building trenches around your bases and plant mines on the nearby-fields, have mobile "strongholds" in both sea and air with Airships and Carriers.






Modernized and brand-new Civilizations




-> The modern-military Western Europeans - The military-balanced British, The diversed-military French and The sea-based Dutch.
-> The "quantity-over-quality" Southern Europeans - The fast and furious Italians, the expansionist Portuguese, the platoon-based Spanish and the mighty Turks.
-> The military powerfull Central Europeans - The technological powerfull Germans and the cavalry-based Austro-Hungarians.
-> The isolationist Eastern Europeans the agressive Soviets and the ultimate-defender Polish.
-> The economical powerfull Pacific Countries, the resource-extractor Americans and the Trade friendly Australians.
-> The unique Asian Countries, the extensive Japanese homecity users, the many-numbered Chinese and the experience-based Indians.
High-quality art and sound
-> High quality units, made with new 3d attachments and high-quality textures.
-> New models that will be apart of most the gameplay.
-> New music and sound effects.
Modified ui in both aesthetically and interactively
-> The art of the pre/in/postgame has been aesthetically modified.
-> New features added to the gameplay, such as building rotation.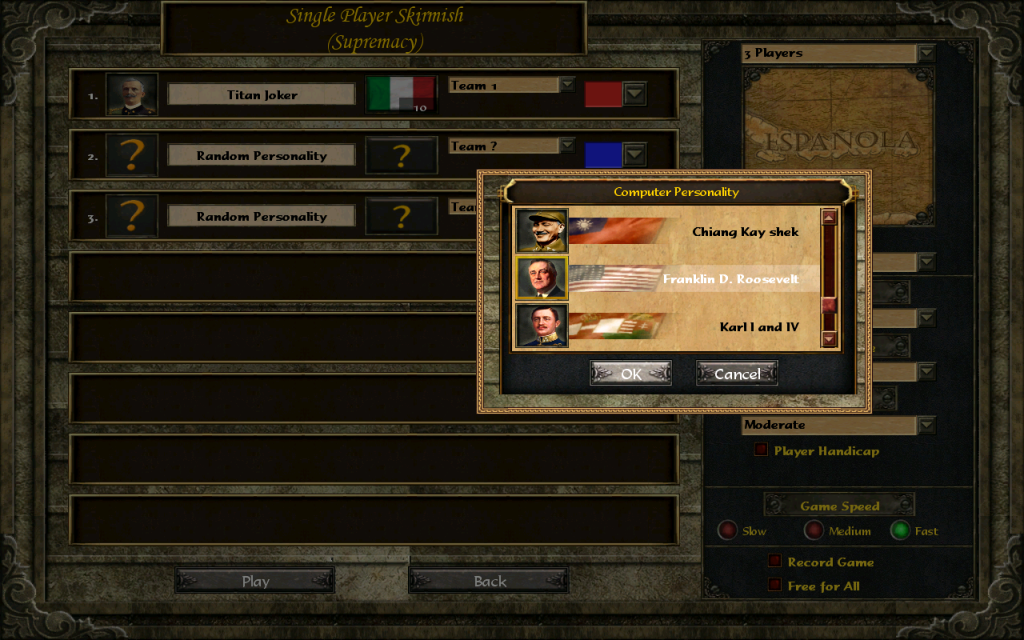 .



This mod is being produced, in the moment, by me alone, but I am fine with allowing people to join the making of the mod, (and to be honest, it would be kinda handy), so if have texture, RMS and AI editing skills, free time and want to be part of a project, you can just tell me here in this topic.

I have no release date yet, I have done a bunch of things, but there is still much more work to do, so it will take long...

Extra screens:

Trench Warfare
Air-Raid in high-seas
German-American Encounter
A usual day on the Eastern Front
Trooper, the multi-civ shared backbone of any army.
Pacific Sniper, standard light infantry for the Pacific civs
Central European village

Tell me what you think and if you have ideas, please tell, they are needed. Thanks, hope you liked it!



The Team





Titan Joker - All-around modder (Data, texturing, 3d modelling, sound, etc....)




Randomplayer - Random map maker & UI builder (Data, RMS, UI, etc....)





ANYONE CAN JOIN, IF YOU WANT TO BE PART OF THE TEAM AND THE MOD, LEAVE A REPLY IN THIS VERY TOPIC

[This message has been edited by Titan Joker (edited 05-21-2014 @ 01:05 PM).]